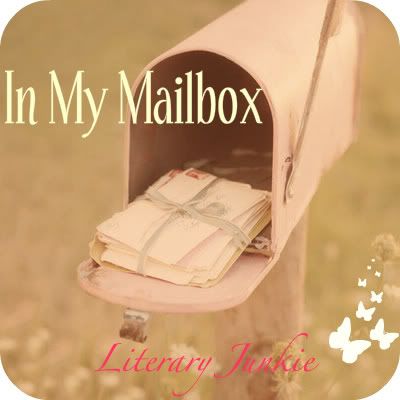 In My Mailbox is a weekly meme created by Kristi at The Story Siren that gives readers the chance to share the books they bought/received/swapped/rented over the past week.
This week, the hubby and I went on what we like to call a "Goodwill Run." I am a major fan of Goodwill and love love love to shop for the next great find! This week, it looked like someone cleaned out their bookshelf of some pretty rad YA books.
Me + GoodCheapBooks = Loved
I hit the YA jackpot! Unfortunately I am on a budget, so I had to leave some lovelies at the store. :(
But, I did score some fabulous reads. At least I hope.
Publication Date: May 5, 2009
Publication Date: May 4, 2010
I don't think that I have ever read a novel about fairies. But, I have had my eye on these ones for a while. And I figure it they would be a nice start to what is sure to be my fairy book addiction. How beautiful are these covers?? Just gorgeous.
Publication Date: January 18, 2010
I am usually kind of iffy when it come to vampire books. I love love Twilight so much that it is difficult to pick up another novel. It is kind of like new boyfriends. I will always compare the new one that got away, except in this case, my "old boyfriend: lives on my shelf.
Anyways, this one sounds kind of fun, and I like to add fun lighthearted books in here and there so I don't get jumpy.
Publication Date: March 27, 2007
I have been putting off Blue Bloods for a while now. While I was shopping the shelves, it just kind of jumped out at me. Fate?? I guess we will see when I sink my teeth into this one!
Wha
t is in your mailbox??